For flute, clarinet, cello, harp, percussion, fixed sounds and video.
Commissioned by Laborintus ensemble with the support of SACEM.
Lascaux Expérience is a true net inside the net of the 24+1 composition-cycle: Urbana. The project has its origins in 1997.
The considerable research, which was left aside during the composition that gives the name to the cycle, Urbana (for acordeon, percussion and live dispositive, commissioned by IRCAM), constitute the sound base material for Lascaux Urbana. This material is the trace, the footprint, fixed in the multicanal audio medium of the fleeting of the elements in Urbana. This "fixed" composition was initially thought as a free access plastic installation.
The following stage was the real composition of Lascaux Urbana (acousmatic composition in 5.1 and visual medium), commissioned by the French state for the Musiques Inventives d'Annecy festival; it was created in November 2004 in Beaulieu, Scène Nationale d'Annecy.
Lascaux expérience / friso Abel Robino
The complete musical work is accompanied by video images done by Diego Pittaluga based on an Abel Robino friso. Lascaux Urbana is composed of twelve parts, divided into 8 songs and 4 interludes.
Lascaux expérience / Graph  by Théo Pittaluga
Concert -installation – CETC Teatro Colon – Buenos Aires – 2011
When Lascaux meets Urbana
Lascaux cave is an echo of our creative origins, it particularly resonates today because it reflects our conscience between the exterior and the interior. Urbana is an abstraction that renders an account of the human of its surroundings, "translated" or transposed in musical terms by a cycle of compositions. The ties and relationships of a "polis" in the image and likeness of the body and the thoughts.
Including living characters in the cave, the musicians of Laborintus ensemble allows us to complete the journey and revisit the fixed materials. It is from the footprints (the 12 initial parts) that the score have been written for the ensemble. I use the term "footprint" because the electroacoustic part is, in some cases, just an invisible tissue, that grows silent, by which the instrumental gesture evolves.
From the combination and the friction between image, electronics and instrumental presence Lascaux Experience is born.
The album version has 17 fragments.
Lascaux expérience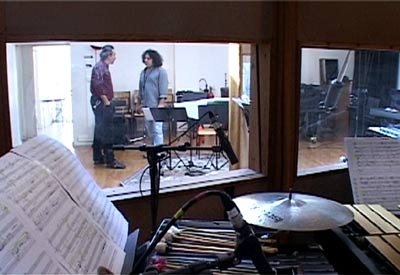 Lascaux Expérience / enregistrement / Ensemble Laborintus
---
Critique : Revue Otra Parte – Concert au CETC – Septembre 2011
---